Payment Info
1.Place Order With Paypal
Millions of people around the world use PayPal. Just an email and password will get you through checkout before you can reach for your wallet. Paypal provides highest possible level of security to make your online shopping experience safe and secure. It has used and trusted by millions of eBay shoppers and other e-commerce buyers worldwide. Crebobble accept Paypal as the uppermost payment method.
2.Shop securely online with credit cards
If you do not have a Paypal account or you do not have enough money in your Paypal account, then you will prefer to pay with your credit cards.
We accept payment via Paypal and credit cards. When you want to pay with credit cards, please click the green button "Pay with Paypal or Credit Card" in last checkout step. Then You will be directed to the credit card payment page. Choose "Pay with Debit or Credit Card" below Paypal login box, you will see the page for you to pay with Credit Card. Then easily fill the form and complete the payment.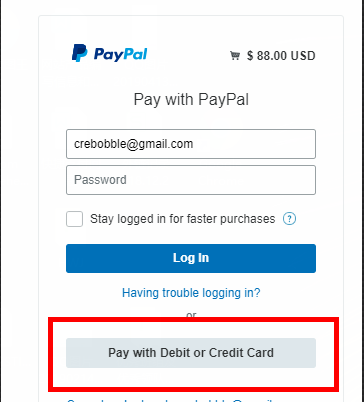 We accept the following credit cards: Visa, MasterCard, American Express and Discover. There is no surcharge for using your credit card to make purchases. Please be sure to provide your exact billing address and telephone number (i.e. the address and phone number your credit card bank has on file for you). Incorrect information will cause a delay in processing your order. Your credit card will be billed upon shipment of your order. Orders paid on credit card will show up on your statement as: HDDESIGN.