By Crebobble |
17
May 2022 |
1
Comments
Father's Day Personalized Gift Ideas
Making
a good gift choice
might be hard at times. Knowing what people like or appreciate can lead to hours of research and many store visits. Furthermore, you will have to work much harder to find the perfect present for a family member. People dear to us deserve all the best, so we make all the possible efforts to make them happy. Thus, when special days approach, we start looking for ways in which we can express our gratitude towards those that matter the most to us. And the people that deserve unconditional love and appreciation are fathers. Dads provide, protect, and love like no one else, and they deserve unique presents. However, if you lack inspiration for Father's Day, we've got some great personalized gift ideas. So keep reading and see what gift might be the perfect gift for your father.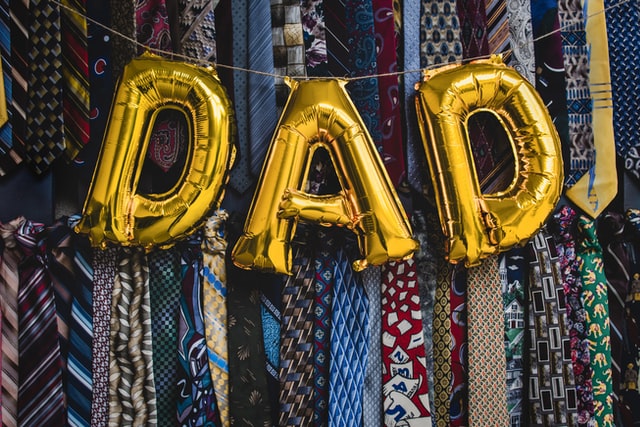 Keep things simple
If your budget doesn't allow you to get the perfect shop gift for your father, don't despair. There are smaller gifts that can be just as significant, if not better. For example, you could write an appreciation letter to your father to express how much he means to you. He surely knows how much you love him, but he also needs to hear it from time to time. You can add a little engraved keychain, a personalized silicone cover for his phone, a nicely framed family photo, or a handcrafted bracelet that you made. And, of course, every present you will give to your father also has to be accompanied by a big, big hug.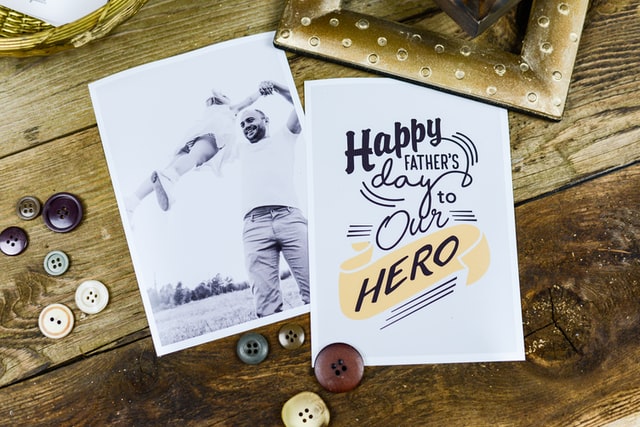 Caption: Sometimes, the best personalized Father's Day gift idea is just telling your father how much he means to you.
Alt-tag: A father's day card as a personalized gift idea.
Take your father's interests into account
A great way to ensure that you
give the right custom gift
to your father is to look at his interests. And, to help you further still, here are some Father's Day personalized gift ideas that might appeal to his hobbies.
If your dad likes to write or take notes, you can get a personalized notebook with an engraved leather holder. In addition, you can gift him an engraved fountain pen with a display case that allows him to keep the pen nearby and safe. Your father will think of you whenever he writes in his notebook or signs a paper with his pen.
A father that loves grilling will enjoy a personalized barbeque set. Grilling season has almost started, so having a spatula and fork with his name on them will make him the neighborhood star. Also, an engraved chef's knife will let everyone know who has the best cooking skills.
Fathers that are sports enthusiasts will enjoy a personalized baseball cap or glove. Alternatively, a customized T-shirt with their name or the name of their favorite football star can do the trick. Not to mention that when your father is watching the game with you or his pals, he can enjoy a cold beer from an etched pint glass.
For a father that likes to stay organized, you can get a money clip, credit card holder, or a leather wallet with beautiful engraving. A wristwatch with a dedication on it could also be a great idea. That way, you will ensure your father will always be on time when he has a meeting.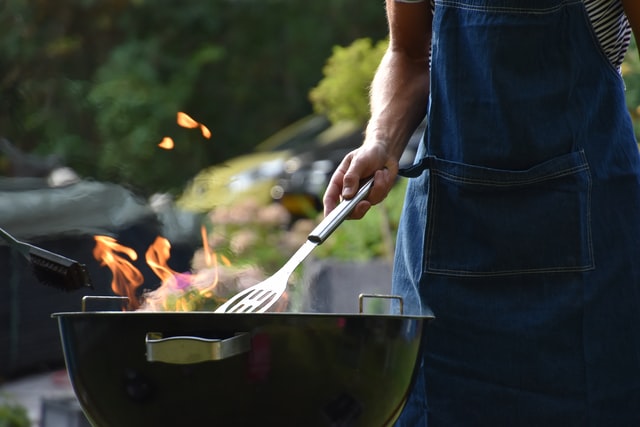 Caption: Your father likes to grill a lot? Give something related to this passion.
Alt-tag: Person grilling and using a spatula.
Make your father feel special with a personalized gift
Some of us feel that we can never repay our father's sacrifices and unconditional love. Therefore, a more sophisticated gift can help express your feelings. For instance, an engraved ring with his initials might just make him see how important he is to you. Also, a men's family birthstone ring can be a great idea. Or a Superman necklace personalized with his name to remind him that he is your superhero. You might even give your father a custom engraved bottle of fine wine or whiskey if he enjoys sipping on them from time to time.
Give your father a handy gift
If your father is preparing to relocate for a job, retirement, or any other reason, you can assist him by finding a reputable moving company that offers customized services. According to the experts from
triple7movers.com
, finding a good moving company is not as easy as it seems. There is research to do, reviews to read, and quotations to compare, all of which consume a lot of time and energy. As a result, you could help out your dad by doing all this work for him and even paying the relocation costs as a gift. Such presents that are both thoughtful and practical are usually very appreciated.
Gift your father his best memories
Even if they portray themselves as tough and indestructible, fathers are rather sensitive. As a result, you can use one of our favorite Father's Day personalized gift ideas and make your father a beautiful photo collage. You can include photos of your father from special occasions, such as his wedding day, cradling his first kid, or a snapshot of his grandsons. Alternatively, you can make your father a photo blanket, or if you have the skills, you can edit a short movie about his life. You can include clips of all his special events, from childhood to the present.
Caption: A great gift for Father's day is to look through the family pictures and make a collage of the best of them.
Alt-tag: Wooden box containing old photos.
Get your dad an original gift
If you want to impress your father and bring a smile to his face, you already have two reasons to gift your father a personalized bobblehead of himself. Quality
custom bobbleheads
are reasonably priced, have attractive designs, and are made by skilled artists. In addition, each bobblehead is unique and made just as you want it to be. You must pick every tiny detail so that the bobblehead looks just like the person that will receive it. Furthermore, it's a gift that will bring laughter and joy to whoever receives it. Just imagine your father with a bobblehead of himself on his desk or in his car. He will be the proudest owner of an ingenious and fun gift.
Final words
If you want to give your dad a great personalized gift for this father's day, these ideas are some of the best. You have everything from cheap to expensive, handmade or store-bought, helpful or just plain fun. In any case, we are confident that your father will appreciate any present that comes from the heart.
Metadata Description: If you are looking for the perfect Father's Day gift for your dad, here are some great personalized gift ideas.
Images used:
https://unsplash.com/photos/gtl5hdjj0hI
https://unsplash.com/photos/XZkraCOGUMc
https://unsplash.com/photos/ul_m5dHThaM
https://unsplash.com/photos/7sPg5OLfExc
Leave a Reply
Your email address will not be published.Required fields are marked. *