By Crebobble |
07
May 2022 |
0
Comments
Mother's Day Personalized Gift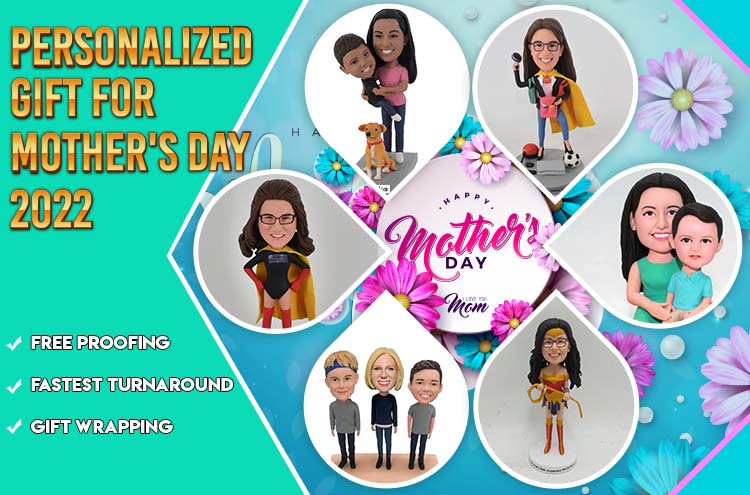 Our mothers are all different. Your mom may be running a marathon, and your friend's mom may be running a company. Some moms run around the city trying to get their little ones from football practice to a violin lesson.
Although different and doing different things, all these mothers have one thing in common - their child
. And children owe everything to their mothers. They owe them their birth, their future, and everything in between. You can never repay your mom for everything she has done for you, but giving her a thoughtful gift every once in a while is an excellent way to start. Probably, you agree with us - that is why you are here, searching for the perfect mother's day personalized gift. You are in luck - we have a long list of those.
A Coffee Subscription
There is not a mother in the world who doesn't love coffee. Why? Because coffee has been there for your mother ever since you were born. It helped her stay awake when you needed nursing, when you were sick, when you had an art project due the following day, etc. But, don't worry - your mother enjoyed doing these things, and coffee probably reminds her of all those nights and mornings. So, if you want to surprise your mother with something personal, consider a coffee subscription. This will be one very
creative gift idea for mother's day
as long as you ensure that your mother gets her favorite coffee delivered every day or every week. And
, if you want to go all out, add a personalized coffee mug, cup, thermos, or something similar
to the gift.
Never-ending Flowers
Speaking of subscriptions, you can also get your mother a flower one! Every woman loves receiving bouquets! Maybe this doesn't seem like a personalized gift, but trust us, it is. That is, it can become if you customize it. For instance, you can pick your mother's favorite type of flowers, their color, shape, and even the vase they come in. Or you can arrange for the florist to bring your mother her favorite 'live' plant, which she can grow on her window sill. And, if you want this gift to be the one that keeps on giving,
you can arrange for the flowers to come every week or every month
for the rest of the year. The options you can go for when it comes to flowers are pretty much endless, so be creative with this gift.
Pillows, Blankets, Throws
Your mother was probably busy buying comfy things for you all these years, so now is the time to return the favor! And what can be more comfortable than things like pillows, blankets, and throws? These things are
something all women love
, so you can't go wrong if you choose this mother's day personalized gift.
Moreover
, pillows, blankets, and throws are an excellent gift for every woman not only on mother's day but for any other holiday or regular day
. If your mother has just moved into a new home, then a lovely housewarming party is in order. It doesn't matter whether you are the one that throws it or she invites you herself - this housewarming party would be
the perfect occasion for this
gift. Just make sure to choose the colors and patterns your mother likes. We will give you a hint - look at the pillows, blankets, and throws she already has in the bedroom or living room and choose something similar (but better).
Personalized Bobbleheads
If you consider all the previously mentioned gifts (and the ones we are about to mention) to be pretty standard and ordinary, you can also opt for something a bit more creative and fun. For instance, you can get her
a very satisfying custom bobblehead doll
. This
doll can look like your mother, like your mother's favorite celebrity, or even like you
. Doing this is rather easy - you have to contact the store that makes personalized bobblehead dolls, send them the picture of what you want that doll to look like, and wait a couple of days for it to arrive. Although, you want to be sure that you do this in due time, as you don't want to place an order two days before the gift-giving occasion. We are sure that your mother will love this gift as it doesn't get more personal and creative than a bobblehead doll.
Digital Photo and Video Frame
A mother's day personalized gift, besides a
custom bobblehead doll in various styles
and everything we mentioned so far, can also be a digital photo and video frame. This gift is perfect for mothers who want to display as many photos as possible and for mothers who love re-watching old videos repeatedly. So, if your mother is of this type, consider decluttering her walls and gifting her this unique gift. This 'device' has a USB port where you can plug a connecter and transfer as many photos and videos as you want. The digital frame will then start playing a video of all the things you uploaded.
Watching this frame can be amusing for everybody who walks into the home
. And it will enable your mother to declutter those walls finally. So, give this gift a thought - nothing is more personal than your mother's favorite photos.
Some Cute Jammies or Loungewear
When you think of your mother, what clothes do you envision her in? It is probably something like an oversized shirt, torn pajamas she had for years, crumpled tracksuits, etc. These outfits are every mother's uniform from time to time. So,
surprise your mother with something new
. Another great mother's day personalized gift would be jammies or some loungewear - something your mother can sleep and lounge in, something that is comfortable and aesthetically pleasing. And, if you want to make this gift even more personalized, consider having those 'wears' embroidered with her name or initials on it.
With all of the mother's day personalized gift ideas, we are sure that you will know what to purchase the next time you need to celebrate your mom. Likewise,
we are confident that she will be thrilled with these gifts
. After all, it's the thought that counts.
Meta Description: Looking for a perfect mother's day personalized gift? Look no more - just keep on reading.
Photos Used:
https://www.pexels.com/photo/brown-gift-box-360624/
Leave a Reply
Your email address will not be published.Required fields are marked. *