By Crebobble |
22
March 2022 |
0
Comments
Why bobbleheads are perfect graduation gifts
Finding the perfect gift for someone who's just achieved a significant milestone in life is usually really challenging. Especially if you're not very close with the person, it's hard to guess what they'll love. If someone in your friend group or family has just graduated, it would be nice to give them
a symbolic token that'll stay with them and remind them of a long period in their life
. Keep reading to find out why bobbleheads are perfect graduation gifts, how to purchase them, and what to pair them with.
They're memorable
One of the most challenging aspects of finding the perfect graduation gift is making it memorable enough. Getting someone something completely impersonal like a drink or flowers is okay, but stepping up and
gifting them something original will make your gift stand out
. That's why bobbleheads are
perfect for any occasion
. Whether they've graduated high school, university, or college, they'll move on to another venture and will feel homesick and want to reminisce - you're giving them the perfect tool to do so!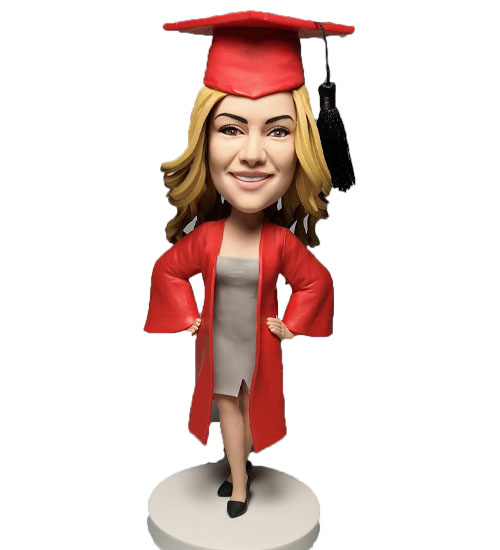 Bobbleheads are perfect graduation gifts because they're unique
Regardless of if you're close to the person that's graduating or if you're acquaintances, gifting them something unique that they won't get from everyone is a great move.
You can choose from a variety of styles
Another reason why bobbleheads are perfect graduation gifts is that they'll beat any mass-produced product that feels impersonal. The
y come in a variety of styles
. Depending on the direction you want to go in, you can choose different dolls:
Dressed like a graduate. Order a bobblehead that's dressed like a graduate. You can customize and throw in some details specific to the person you're gifting it to.
Their face. A great way to customize a bobblehead is to send a picture of the person you're giving it to. You can check out some examples of our work on our site.
A successful business person. If you want to insinuate that you believe in the graduating person, gifting them a bobblehead that's dressed like a successful business person can be like a lucky charm.
They're easy to transport
If you're sending the gift and cannot be there in person or if you're flying out for the graduation, bobbleheads won't take up any space. You can quickly wrap them up and transport them either in your suitcase or with you. Additionally, if you're ordering them ahead of time, they won't occupy any space in your home as some other larger graduation presents would.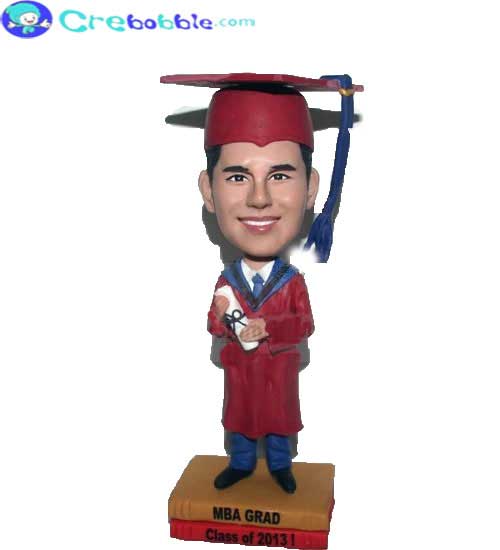 Treat them with care
However, if you're either in-between places or don't want to store the bobblehead in your home for whatever reason, you can set it aside in a storage unit. In this case,
City Movers
recommend choosing a safe location, especially if you're keeping other valuable items with it.
Pair bobbleheads with other gifts
We've gone over why bobbleheads are great graduation gifts. Nevertheless, if you want to make this present even more unique, you can get something else to pair it with.
A great book. Find out what genre of books they love and gift it together with the bobblehead. If you want to go out of your way, you can also get a mini version of the book so that the bobblehead resembles them enjoying your gift.
A thermos. What's a more valuable gift for graduates than a thermos? It is excellent and handy for everyday use, but it's also a very eco-conscientious present since they won't get to-go cups of coffee all the time.
A candle that smells like home. If you want to stay on track with sentimental gifts, a candle that'll make them reminisce about the good old school days is a great choice. Choose warm and cozy scents like cinnamon or vanilla.
Order today!
Once you
check out our graduation bobbleheads
and find the best choice for your present, reach out, place your order, and let us do our magic. We're shipping in 3-8 days, so you can still get your present on time even if you're a bit late to the party. We love to pay attention to minor details and make your gift as authentic as possible. If you want some
unique details like a dog, tattoos, logos, etc.
, mention them in your order.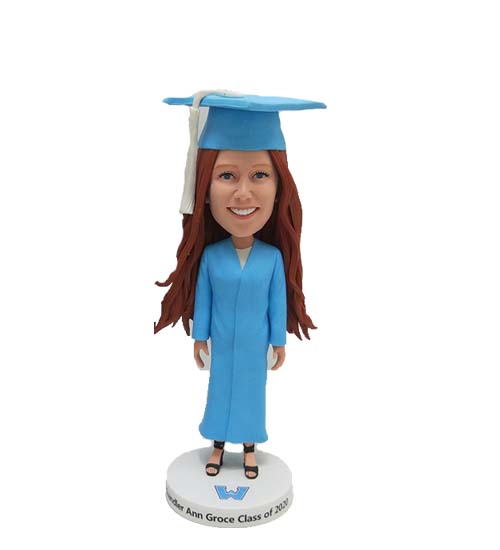 Other occasions where bobbleheads are great gifts
There are many other occasions where bobbleheads would make amazing gifts. Some of them include:
Weddings. Is there something more adorable than his and her bobbleheads? They beat the little cake figurines any day of the week. In fact, you can even gift these early so that they can replace the cake toppers with authentic bobbleheads.
Mother's/father's day. If you're going crazy not knowing what to gift your mother on Mother's day for the 25th time in a row, you can rest easy since we can take care of this one. Gift them a personal bubblehead that'll capture all their favorite things.
Your child's birthday. If your kid playing with dolls constantly? Why not gift them a doll that looks exactly like them. If you really want to splurge, you can get them dolls that look like them and their best friends.
Valentine's day. Giving the significant other bobbleheads that resemble you and capture details of your relationship is a great idea. Make sure to find the perfect spot in your home to lay them out proudly.
Why should you go with Crebobble?
Our customers' satisfaction comes first. Our dolls are completely free until you're delighted with the bubblehead you receive.
We will change and modify the doll until you've approved it
, and only then will we ship the product. We treat the details you send us with utmost care and dedication and try to recreate everything from shapes to colors in the best likeness possible. Our go-to material is polymer clay which is non-toxic, high-quality, and creates the perfect 3D illusion. The prices are fair and very transparent with no additional costs. This is why our bobbleheads are ideal graduation gifts and any other occasion.
Meta description:
Can't think of a good gift for upcoming graduation? We've got your back. Here's why bobbleheads are perfect graduation gifts!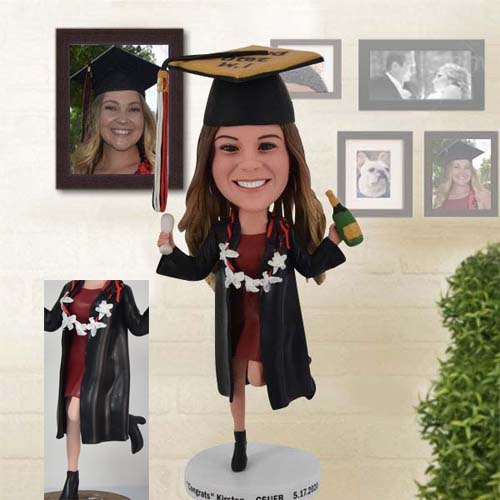 Leave a Reply
Your email address will not be published.Required fields are marked. *