By Crebobble.com |
24
July 2021 |
0
Comments
Personalized Wedding Gifts Every Couple Dreams Of
Getting to experience arguably the most momentous day of your life with the people closest to you is a gift like no other. You'll gather around, have fun, drink and eat your favorite things, enjoy the laughs and dances, and spend the day celebrating your love. Even though gifts are low on the list of priorities when it comes to your wedding day, they are a tradition. Having something to remember the day by means a lot to newlyweds. For this reason, many feel quite a bit of pressure when it comes to gift-giving. However,
managing to find personalized wedding gifts every couple dreams of may not be as challenging as you think
. Here are some pointers that should come in handy.
Meaningful gifts don't have to cost you a fortune
The first thing that everyone gets a bit nervous about is splurging all their savings on a great personalized wedding present. That's not the point here. The best gift isn't the one that costs the most. The main characteristics of a perfect wedding present are authenticity and emotional value that'll be cherished for years to come. You should
aim to gift the newlyweds with something they'll be happy to show their children down the lane
. Here are some such ideas:
Anniversary world map
A great personalized wedding gift can be something as simple as an anniversary world map. The couple can later use it to pin down all of their adventures. What's great about it is that it's interactive, and they will use it for a long time.
A picture of their vows and details from the wedding
If you can get your hands on some personalized items that'll be a part of the wedding, that would make for a fantastic personalized gift. They can hang it in their bedroom and remember the day every time they see it.
Personalized doormat
There's nothing more welcoming than a doormat. By gifting your newlywed friends a specifically embroidered doormat, you'll help the couple make their home inviting and unique.
Get the happy couple something you're sure they need
Although it may sound a bit regular,
gifting someone something they'll surely use is never a bad idea
. In addition, you'll probably be able to
find a great gift
, especially if you know the newlyweds well. Although practical wedding gifts may not sound romantic or like something you can personalize per se, they can be both. Here are some ideas that show an outstanding balance between practical and sentimental:
Carved tableware
Getting the couple tableware that'll have either their initials or something personal on them is a great idea. Personalized wedding gifts like this one aren't meant to be used every day, and that's what additionally makes them special.
Furniture that they'd love
Finding a piece of furniture that you think would go lovely with their home's ambiance is another superb idea. You can always customize the materials, colors, or anything else according to their preferences.
Something they've raved about for ages
Of course, if you've heard about a particular ottoman or a set of glasses for the longest time, it might be the couple's not-so-subtle way of letting you know what to get them.
Find something that'll help the couple create their own home
Starting your life with another person can be challenging. Whatever you can do to make this time easier and enjoyable will be highly appreciated. Some of the best personalized wedding gifts are those that will
help the couple make their house their home
.
Gardening tools
An organizing manual
Get them a gift card in their favorite home decor store
Get them a quirky gift they'll love
Not every personalized wedding gift needs to be serious and grand.
A great wedding gift
can also be
quirky and fun.
Making your friends laugh is as important as helping them start their new life.
Custom Bobbleheads are all the rage
One of the best personalized quirky wedding gifts is a custom bobblehead
.
Wedding bobbleheads
are all the rage lately. You can get bobbleheads that look impressively similar to the original by sending in the couple's picture. Not only are they a great laugh, but they can also be an excellent decoration.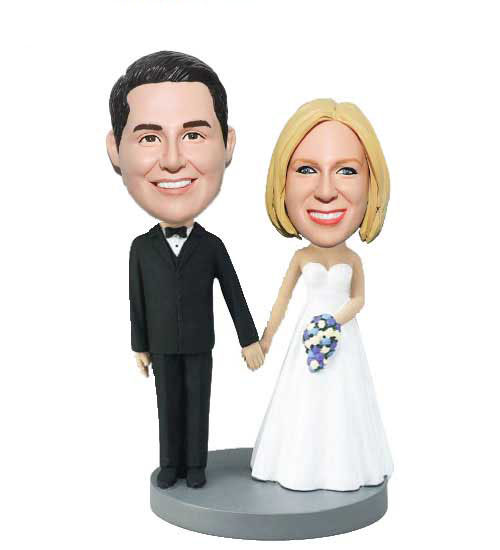 Newly wedded couples need board games
Another not-so-over-the-top gift can be
any board game of your choice
. Although board games are not usually something you would classify as personalized wedding gifts, think twice. If the couple you're gifting is notorious for their competitive spirit on game night, there's no better way to show that you care and listen. This way, they can start hosting their game nights and make it a family tradition.
Check to see whether your present is appropriate for the occasion
Although you're looking for a personalized wedding gift that the couples will find charming, you should also
consider the occasion and ambient the wedding will take place in.
If you're going to an impromptu wedding in a chapel in Vegas,
your options aren't very limited
. Since these chapels accept walk-in weddings, there's little they'll draw the line for. You can pretty much gift the couple anything if they plan to
get married in Vegas
and get away with it. However, if the wedding is an elegant ceremony, make sure that your gift reflects that.
DIY a personalized wedding gift
Lastly, as a gift itself or a side piece,
you can always make the newlyweds something they'd enjoy
. To make
a warm-hearted custom gift
, you need memories and a bit of skill. It doesn't have to be something too extravagant. You can use what you have in your home and present it alongside your main present.
Make them a video of all their favorite people congratulating them
A great example of personalized wedding gifts that tend to blow the couple in question away is
a video of all their favorite people congratulating them
. Take the time and interview anyone who'll participate. Have them state all the ways the couple has affected their lives and have them express their wishes for the future.
https://unsplash.com/photos/XsriYQ1oowc
Meta: If you're looking for great personalized wedding gifts to give your close friends, look no further. Let's go through some useful pointers.
Leave a Reply
Your email address will not be published.Required fields are marked. *