By Crebobble |
13
January 2020 |
0
Comments
Custom Bobbleheads Make the Perfect Gifts!
Ever seen one of those bobbleheads and thought to yourself that you would love to get a miniature version of your friend, loved one, or family member? Well, today is your lucky day! We have a variety of different superhero bobbleheads that you can customize to resemble anyone.
We know what you're thinking, that would be awesome! And you'd be right. You send us a picture of whoever you want the superhero bobblehead to resemble, choose one of the superheroes, and we'll take care of the rest. We can add a wide variety of different accessories and will match your bobblehead down to the smallest facial details and expressions.
When the recipient opens their custom bobblehead, they'll be swearing that they are looking in a mirror! These custom superhero bobbleheads make great birthday gifts or just as a special thank you to let someone know that you care about them and appreciate what they do for you.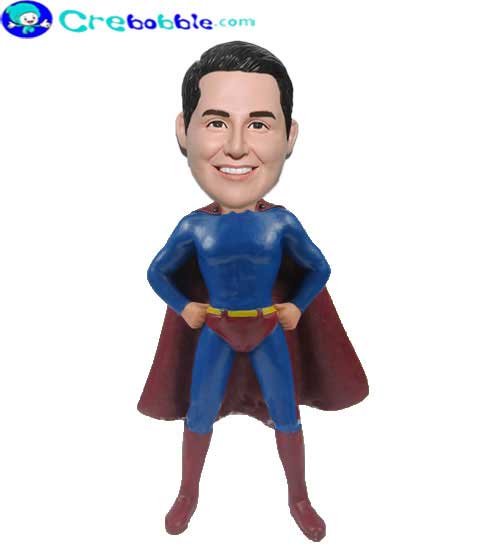 With so many different superhero bobbleheads to choose from, we've made it a little easier and have listed five of our best selling bobbleheads below. With Valentine's Day fast approaching, this could be a unique gift that leaves your loved one or partner smiling from ear to ear!
Valentine's Day Custom Bobblehead
Valentine's Day is upon us again, and finding unique gifts is never easy, but we have one idea that could top all your past Valentine's Day gifts. This custom bobblehead features a center love heart framed on each side by both your partner's image and your own. Each doll will resemble the photos that you send us in. You can add a variety of different custom options including hats, logos, pets, backgrounds, and much more! Celebrate your love this Valentine's Day with an awesome Valentine's Day custom bobblehead.
Wedding Cake Topper Custom Bobbleheads
Are you planning on tying the know, but haven't been able to settle on a wedding cake topper yet? Then why not check out out our awesome wedding cake topper bobbleheads! Each bobblehead will resemble the photos that you supply us with, as well as allow you to customize your bobbleheads. If you have been searching for the perfect way to impress your guests at your wedding, then this custom wedding cake topper bobblehead will definitely have tongues wagging!
Custom Bobblehead Holding an Oscar Statuette
If you have ever struggled to find a unique and exciting gift for someone to show them that you care or appreciate them, then stop looking right now! This custom bobblehead holding an Oscar statuette will definitely move you up the ladder of your boyfriend or best friend. You can send us a photo of your partner, a loved one, or best friend and well create a stylish and realistic custom bobblehead for you. If you like, you can always add a variety of different custom extras. This is the perfect addition to any special occasion and makes an excellent gift for a variety of different situations.
Sexy Bobblehead Doll
We all have that hot friend or loved one in our lives that has a remarkable sense of humor. While they are great fun to be around and spend time with, it's not always easy to find them great gifts. A sexy bobblehead doll will be the special occasion or birthday gift that tops all others before them! The sexy bobblehead doll will be mounted on a red love heart and match your loved one's features. There's also a range of different customizable extras that you choose from! Give that particular person in your life the perfect gift!
If you have been thinking of popping the question to the special person in your life and looking for a special gift to commiserate on one of the most amazing occasions in your life, then look no further! This awesome proposal couple bobblehead will feature both couples, with one person down on one knee proposing to the other. You can choose from a variety of different customizable options, and we'll perfectly match the features on the bobbleheads to the photos that you supply us with.
Leave a Reply
Your email address will not be published.Required fields are marked. *